By: Ariel Warden-Jarrett, M.D., FAAFP
People are meant to be together. Relationships and community are an important part of our lives, and we need meaningful connections to be happy and healthy.
To stay safe during the Covid-19 pandemic, we have been forced to cut ourselves off from some of our normal connections: family, friends, coworkers and social activities. This enforced social isolation is more than unpleasant, it can result in emotional and physical problems.
The Health Effects of Isolation
Changes to our daily lives can be unsettling, and the extended isolation we're experiencing can lead to negative health effects, such as:
Sadness: Being deprived of our regular routines and social contacts can cause feelings of loss and sadness.
Depression. Being isolated and lonely can lead from sadness to depression, and depression can, in turn, make you want to withdraw further from others.
Anxiety. Loneliness and isolation can cause anxiety, and if anxiety increases you may suffer from irrational fears.
Lack of sleep. Socially isolated people tend to have more restless sleep, insomnia, or not enough sleep. This leads to fatigue, lack of focus and concentration, irritability and mood swings.
Heart disease and stroke. There is a strong link between emotional and physical health. Isolation can result in heart disease or stroke due to the lack of support to promote healthy lifestyle choices.
Tips to Maintain Connections
Quarantining is necessary during the pandemic, but there are simple things you can do to maintain your social connections and stay healthy. Here are some ideas to get you started:
Make a call. Have daily check-ins with close friends and family. Make a list of people to call, text or video chat. Try iPhone Facetime, Skype or Google Hangouts for face-to-face chats.
Use Zoom or another platform to have a "party" with friends. Zoom allows you to connect with several people at once, so it's ideal for occasions such as happy hours or birthdays.
Get the popcorn. Watch your favorite shows or movies with family, or with friends over video platforms.
Share a meal. Make time to connect as a family over dinner. Or schedule a time to eat with a friend via video chat.
Take up a hobby. Hobbies can fill the hours while enriching your life. Rediscover an old interest, such as art, music, writing or try something new. There are many hobbies you can do with a family member or while Facetiming with a friend.
Exercise. Exercise is a great way to release natural endorphins and relieve feelings of anxiety. Take a walk with a family member or socially distanced friend. There are also many free online workouts you can do indoors with someone else. See the article in this issue to get started.
Give back. Think how you can support neighbors, friends, family, your community or coworkers. Make a contribution to your local food pantry. Clean out your closet and set aside things for donation. Bake something or make a meal for a friend and drop it off at their front door.
Foster a pet. Having a furry friend keep you company helps ease anxiety and depression from isolation. If you already have a pet, make time for walks and play. If not, check with your local animal shelter to learn about fostering or adopting.
Being quarantined hasn't been easy for any of us. If you find that your feelings of loneliness and sadness are interfering with your life, reach out to your MPCP provider. We can help with advice or treatment to see you through the hard times.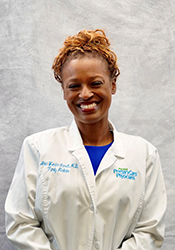 Dr. Warden-Jarrett is a Maryland Primary Care Physicians, LLC partner and is certified by the American Board of Family Medicine. She holds her medical degree from George Washington University School of Medicine and Health Sciences, and sees patients in the Bowie office.