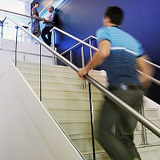 Whether you made a New Year's resolution to exercise more or not, there are many ways to keep fit during the winter. These tips don't require special equipment or a gym membership. The key is to move, move, move! During your regular daily routines, adding some extra movement in your steps can improve your fitness level.
We recommend that our patients engage in moderate exercise for at least 30 minutes, five times a week.  Here are some ideas to help you get moving:
At work or shopping, park your car farther away and walk the extra few yards.
While doing household chores, put on some music and move with the vacuum or the dust mop.
When possible, take the stairs to help tone your back and leg muscles- and get your heart pumping.
Don't just sit and watch television, get on the floor and do some sit-ups, push-ups or other floor exercises.
If you have a higher than average (more than 8 feet) ceiling- maybe in the garage or basement- jump rope.
Or try a new routine with some yoga or pilates or tai chi.  Your local library should have some books or even videos to show you how.
Even when temperatures are in the 30s, you can layer clothing and take a brisk walk as long as there is no risk of slipping on ice or snow.  Find a walking or workout "buddy" to help you stay on track.
Consider using an online or mobile app that helps you track your activity/fitness progress.
Whatever you choose, please stay active this winter.  A sedentary lifestyle puts you at greater risk for many health problems.  Don't forget to encourage your family to keep moving too!
Dr. Baird joined Maryland Primary Care Physicians, LLC in 2013 and is certified by the American Board of Family Medicine. She received her medical degree from Edward Via College of Osteopathic Medicine in 2009 and completed her residency training in Family Medicine at Albany Medical College/Albany Medical Center Department of Family and Community Medicine in 2012.