HealthWise – Winter 2017 Your Office Visit, Stress & Tips for Better Health
Welcome to the winter edition of HealthWise Winter is finally winding down, and we want you and your family to be feeling great in time for spring. In this issue of HealthWise, the newsletter of Maryland Primary Care Physicians, our providers discuss how to get the most out of your office visit, ways to de-stress your life, and 5 ways to get healthy right now.
 In this issue:

Your Office Visit  |  Stress  |  5 Tips for Better Health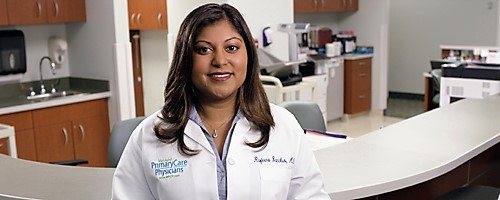 Making The Most of Your Doctor Visit [VIDEO] A Q&A with Rafeena Bacchus, M.D.
Most of the time, your primary care physician is your first contact for health care. When you make an appointment, knowing how to prepare and what to expect will help you get the most out of your visit...
You Don't Have to Live With Stress
By: Sneha Sheth, M.D.
Have you ever found yourself with sweaty hands before a big meeting or felt your heart pound before getting on a roller coaster? You are experiencing stress. Stress is an automatic response our bodies have to unexpected or challenging circumstances. Your nervous system kicks into high gear, flooding your body with hormones that elevate your heart rate, increase your blood pressure...
5 Ways to Improve Your Health Now
By: John A. Billon, M.D.
The secret to good health is really no secret. In most cases, health is the result of lifestyle choices we make, the things we do or don't do. In other words, good health is in your hands. Many serious diseases are largely preventable, including heart disease, type 2 diabetes, stroke and several forms of cancer...
MPCP News:
Welcome to Our New Provider
MPCP is pleased to welcome Dr. Darnika Rhodes to our Pasadena office. Her primary specialties are internal medicine and pediatrics. She received her medical degree from Wayne State University School of Medicine and completed her residency program at Detroit Medical Center.
Flu Season
Flu season isn't over yet. Call your MPCP office today and schedule your flu vaccination.
Comment Cards
We have developed a patient comment card so you can give us your feedback on what we do well and what we can do better. Look for them in all of our offices.