Profile: Q&A with Dr. Ariel Jarrett
Q: What do you like best about being a primary care doctor?
A: I enjoy the continuity of care, and being able to be involved in every aspect of my patients' lives. I also enjoy the dynamic of treating whole families, as they progress through the various stages of life.
Q: What are some common concerns shared by your women patients?
A: One is weight loss supplements. A lot of patients ask me if they are safe and effective. I really believe the best way to lose weight and keep it off is by making lifestyle changes – eat healthier, exercise, and take care of your body.
Another concern is anxiety/depression. After doing the appropriate screening process to identify the source of the problem, I educate my patients on strategies that can help reduce both. Often changes in diet; vitamin supplements; exercise and exposure to sunlight can help.
Q: As a female physician, how do you balance work/family & stress?
A: As a wife and mother of 2 toddlers, and a job that I love, my strategy for dealing with stress is to spend quality time with my family in the morning and evening. My children know what my job is, and I involve them in it whenever I can; often bringing them to lectures and medical events. I also make sure to set aside time for myself to do things that I enjoy, such as playing the piano and organ, so I can be at my best in every area of my life.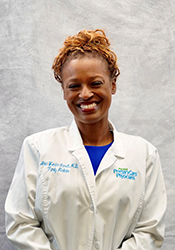 Dr. Warden-Jarrett is a Maryland Primary Care Physicians, LLC partner and is certified by the American Board of Family Medicine. She received her medical degree from George Washington University School of Medicine and Health Sciences in 2008 and completed her residency program in Family Medicine at Howard University Hospital in 2011.
Recommended Posts
By Daniel Lamphier, M.D., Thomas Walsh, M.D.