Holidays Got You Anxious?
During the holidays, many people look forward to spending time with friends and family, but there is also a great deal of anxiety associated with various preparations, travel and time commitments. There may be an inability to sleep properly, exercise wanes and diets can be abandoned. How do we decide if this is "normal" stress from the holidays or is there more involved?
There are many kinds of anxiety disorders and these may have to be treated differently depending on the cause and symptoms. These include generalized anxiety disorder, panic disorder, obsessive-compulsive disorder, post-traumatic stress disorder, and social phobia. Modalities of treatment may include medication and/or counseling. Your physician should be able to diagnose the condition and determine appropriate treatment.
When should you seek medical help? If the level of anxiety is interfering with your day-to-day activities, the symptoms have been present for over 2 weeks, symptoms are worsening over time or interpersonal relationships are suffering as a result, you should make an appointment with your doctor to discuss therapeutic options.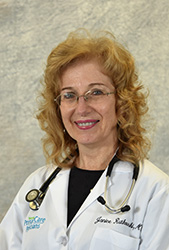 Dr. Rutkowski is a Maryland Primary Care Physicians, LLC partner and is certified by the American Board of Internal Medicine. She received her medical degree from the University of Limoges in 1981 and completed her residency program in Internal Medicine at Maryland General Hospital in 1984.