Bicycle Riding During COVID-19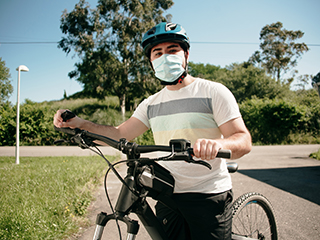 By: Jamie Harms, M.D.
With families looking for safe outdoor activities during this time of COVID-19, many people are turning to bicycle riding to get some fresh air and exercise. Your chances of being exposed to the coronavirus while riding are low, but there are still some precautions you should take. And it wouldn't hurt to brush up on good riding practices before you hit the road.
Coronavirus bicycle tips
Face mask: You don't have to wear a face mask in Maryland while bike riding, but it's a good idea to have one handy for when you stop or are riding close to others. In hot weather, try an athletic mask made from fabric that wicks moisture. Make sure your mask fits well and covers both your mouth and nose.
Social distancing: Try to keep at least 6 feet from other riders and pedestrians, especially at stops. If you're on a busy bike trail, or if you're drafting other riders, wear a mask.  Pack drinks and snacks so you can avoid stopping at crowded stores.
Shared bikes: If you plan to rent a bicycle, sanitize the handlebars and seat before and after you ride ─ and wash your hands.
Other bicycle safety tips
Wear a helmet:  Helmets are required for riders under 16. For everyone else, they're your best safety gear. Wear one every time you ride.
Obey traffic signs and signals: Bicycles must follow the rules of the road like other vehicles.
Watch speed limits: Bikes are not permitted on roads with a speed limit of 50 MPH or faster.
Keep an ear open: You may not wear headsets or earplugs in both ears.
Don't ride against traffic: Always go the same direction traffic is moving.
Know where other vehicles are: Learn to look back over your shoulder, or use a rear-view mirror.
Use hand signals: Hand signals tell motorists and pedestrians what you intend to do.
Ride in the middle of the lane in slower traffic: Get in the middle of the lane at busy intersections and whenever you are moving at the same speed as traffic.
Use lights at night: The law requires a white headlight and a rear reflector or taillight.
Sidewalk riding: You can ride on sidewalks, but pedestrians have right of way.
Special rules for electric bikes
Electric bike motors must automatically disengage at 20 MPH to keep you from going too fast.
Any person operating an electric bike must wear a helmet.
Electric bikes must follow the same traffic laws as cars and bicycles.
You can ride them on roads and bike paths, but not on sidewalks.
Electric bikes must yield to pedestrians and roadway traffic.