Vitamin D insufficiency and deficiency are very common findings in primary care practice today. Low vitamin D levels are found year-round but are more prevalent in the winter months. The main source of our vitamin D is the sun, but with concerns about skin cancer and premature aging of the skin many of us avoid sun exposure and wear sunscreen.  While that is appropriate for those concerns, we are failing to get the adequate amount of vitamin D necessary for optimal health.
Vitamin D occurs naturally in limited foods like fish, eggs, mushrooms and beef liver.  Some foods are fortified with vitamin D, like milk, cereals, and cheese, but are still inadequate in providing sufficient amounts.
Here in Maryland from approximately November through March, even the sun cannot supply enough vitamin D. Additionally, depending on your skin color, you may have more difficulty absorbing vitamin D from the sun since higher melanin in the skin decreases natural absorption. Many of us will need to take a vitamin D supplement to maintain adequate levels.
Vitamin D along with calcium is important for bone health. Without enough vitamin D we are at increased risk of osteoporosis and bone fractures. Some people with decreased levels of vitamin D suffer with bone and muscle pain and fatigue. Low vitamin D has also been implicated in cardiovascular disease, diabetes, multiple sclerosis and many other chronic health conditions, and the research is ongoing.
To determine your vitamin D status, you will need to have your blood level checked.  Your healthcare provider can then determine if a supplemental dosage is needed and how frequently this should be monitored.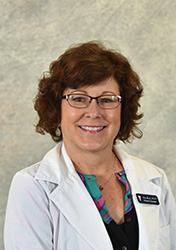 Lisa Meade, Physician Assistant, practices in MPCP's  Arundel Mills office. She holds a Bachelor of Science degree in Community Health Education from Towson University, and received her Physician Assistant certification from Essex Community College. Ms. Meade has over 25 years of experience as a certified Physician Assistant in primary care medicine.