By: TRACY JANSEN, M.D.
Breast cancer rates among white women are higher than those for minority women, but black women are more likely to die from breast cancer. This article explains racial disparities in breast cancer and ways women can reduce their risk.
The basics of breast cancer
Breast cancer is a disease that causes cells in the breast to grow out of control. Breast cancer is the second most common cancer in women in the U.S. (after skin cancer). Deaths from breast cancer have declined over time, but remain the second leading cause of cancer death among women overall and the leading cause of cancer death among Hispanic women. Black women are 40% more likely to die from breast cancer than white women.
What puts you at risk
Your risk for breast cancer is due to a combination of factors. Some are lifestyle issues ‒ such as lack of exercise, obesity, and alcohol use ‒ but the two main factors are ones you can't control: being a woman and getting older. Most breast cancers are found in women who are 50 years old or older. Your risk is also higher if you have a family history of breast or ovarian cancer.
Differences in breast cancer by race
White women are slightly more likely to develop breast cancer than black, Hispanic and Asian women.
Among older women, white women have higher rates of breast cancer compared to black women.
Black women are more likely to develop more aggressive, more advanced-stage breast cancer that is diagnosed at a young age.
Black women are more likely to have breast cancer diagnosed later when treatment options become limited and the survival rate is poor.
Genetic factors may make black women more susceptible to certain types of cancer.
Lifestyle factors – such as being overweight and not exercising – are linked to higher risk.
High rates of type 2 diabetes in black women may be a factor. Women who had been diagnosed with diabetes at least five years prior to their breast cancer diagnosis were almost twice as likely to die of the breast cancer.
Economic factors, such as lack of health insurance, limited access to medical care, and lack of access to nutritious foods, may contribute to higher cancer risk in minority women.
Women who don't breastfeed are at higher risk. Breastfeeding rates are lower among blacks than whites.
While there may be some factors you can't control, such as a family history of breast cancer, there are steps you can take to lower your risk, whatever your race:
Maintain a healthy weight. Ask your doctor about healthy ways to do this.
Be physically active. Most healthy adults should aim for at least 150 minutes a week of moderate aerobic activity or 75 minutes of vigorous aerobic activity weekly.
Limit alcohol. Limit yourself to no more than one drink a day, as even small amounts increase risk.
Breast-feed. The longer you breast-feed, the greater the protective effect.
Limit postmenopausal hormone therapy. Talk with your doctor about the risks and benefits of hormone therapy.
Get screened. The American Cancer Society recommends women 45 to 54 get mammograms every year, and women 55 and older get them every one to two years.
Learn more about breast cancer and what you can do to lower your risk.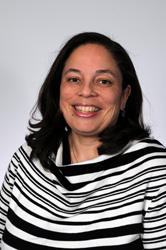 Dr. Jansen is an MPCP partner and is certified by the American Board of Family Medicine. She cares for patients at the Pasadena office.